MEET THE NEW FACE OF SKIN HEALTH!
Skin health is more that just what's on the surface. Combining advanced serums with new treatment technology, Bela MD works to beautify your skin on the outside, while optimizing skin health below the surface.
Bela MD is an all-in-one skin treatment, offering an uncompromising skin health solution by combining the latest serum innovations and technologies. Following a single treatment, your skin will feel smoother and more hydrated and experience a refreshed appearance and glow. The treatment combines diamond tip microdermabraision for deep exfoliation, serum infusion to treat specific skin concerns, a mega dose of antioxidants with Hydrogen water infusion, microcurrent for muscle stimulation, toning and to increase circulation and finally electroporation for deep product penetration.
Bela MD treats a multitude of skin conditions and concerns including:
Dry, Dehydrated skin
Fine lines & Wrinkles
Acne & Congestion
Pigmentation
Tone & Texture
Premature aging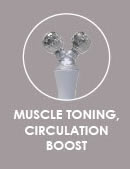 Latest generation bio-infusion serums
Each Bela MD serum is designed to target common skin concerns, while providing an overall improvement in skin quality with multi-functional ingredient blends. Advanced encapsulation technology protects serum ingredients and stability, while enhancing penetration to boost results.
BRIGHTEN & PROTECT
Antioxidant action
Soothe skin
Improve texture
Brighten complexion
Reduce signs of skin fatigue
CALM & HYDRATE
Replenish skin barrier
Boost hydration
Reduce TEWL
Improve firmness and elasticity
Replenish skin barrier
CLEAR SKIN
Reduce excess oil
Calm & soothe skin
Restore optimal hydration
EVEN PIGMENT
Reduce photo-damage
Brighten complexion
Even skin tone
BEFORE AND AFTER